What are you most proud of accomplishing so far in your life?
It changes from day to day, because I'm always looking ahead, rather than behind. As soon as I accomplish something I've been working toward, I feel proud of getting there. But then, by the next day, I'm off down another path and yesterday's accomplishment has faded into the background.
What is your favorite color?
My favorite color is turquoise. Now that I think of that, I wonder why I didn't choose that color for my book covers. Would they look better with a turquoise background?
What is your favorite food?
Potato chips. I really shouldn't admit that. It makes me sound like a junk food queen. But actually I eat a very healthy diet, with not nearly as many potato chips as I'd like. The tricky thing about potato chips was captured very well in an ad campaign years ago with the slogan, "Bet you can't eat one." It's very hard to eat only one. Try it.
What's your favorite place in the entire world?
I love Boulder, Colorado. That's why I live there and why I set my novels there. Boulder has gorgeous mountain scenery and hiking trails, a fun downtown with a pedestrian mall and great restaurants, and an active population focused on physical fitness. I went to college there years ago and lived there for a few years after, but then moved away for many years. My husband and I feel very lucky that we found a way to get back and live there.
How has your upbringing influenced your writing?
My father continually challenged me to think outside the box. My mother loved poetry and read me poems when I was very young. Both of my parents were active in theater groups, and encouraged me to do the same. Their focus on creativity and self-expression gave me the courage to pursue my dream of creative writing.
Do you recall how your interest in writing originated?
I was the oldest of five children. My harried mother used to get me to entertain the younger ones by telling them stories. They wouldn't accept the same story over and over, so I had to be creative, inventing new characters and plots that they would find entertaining.
When and why did you begin writing?
I started writing in grade school. I still have a very short story I wrote in first grade. It went like this: "I like to roller skate. I can roller skate very fast. I can roller skate very good." I illustrated it with a drawing of myself roller-skating. Okay, it's a little lacking in imagination, but I was only six.
How long have you been writing?
Too long. I should be way more famous by now.
When did you first know you could be a writer?
It never occurred to me that I couldn't
be
a writer. The question was whether I could be any good at it. Could I write anything readers would like? Now that I have written stuff readers said they liked, I still ask myself the question with every new piece of writing. Will they like it?
What was your journey as a writer?
I was an academic for many years, so I wrote journal articles, grant proposals, training manuals, etc. at work. Outside work I wrote a couple of popular nonfiction self-help books, one on stress-management and the other on communication between adults and their parents. All that time I wanted to try writing fiction, but I worried that I'd never sell it. At one point I had an agent who told me that selling fiction is next to impossible. But over the years I learned a lot about the publishing industry, and I had my own business, so when digital printing and internet bookstores came along, I realized I could publish and sell a novel through my own business. So I wrote and published
Too Near the Edge
and its sequel
Too Far Under
, and now the third in the series,
Too Many Secrets.
What genre are you most comfortable writing?
I'm most comfortable writing nonfiction, especially research-based self-help. But I'm also tired of writing in that genre. For the past five years, I've been able to devote time to writing fiction, which I'm very much enjoying as a new challenge.
What inspired you to write your first book?
My first book,
Stress? Find Your Balance
, came about because my husband and co-author, Allan Press, and I were teaching stress-management techniques in workshops for social services professionals. This was back in the early 1980s and we weren't able to find an easily readable book for our participants to use. So we created handouts, which then became a booklet, and finally a book, pubished by a new small publisher.
What do you consider the most challenging about writing a novel, or about writing in general?
There's so much to learn about writing fiction. No matter how good you get at it, you can always get better. Description, dialogue, plotting, pacing, conflict, character development, and more. It's all challenging.
What contributes to making a writer successful?
Success is tricky to define. We seem to have some agreed-upon criteria in our society, mostly involving the acquisition of power and material wealth. But not everyone accepts these definitions. Some people actively reject such worldly notions of success, preferring more personal benchmarks.
I believe it is far too simplistic to decide whether or not an author is successful by applying objective criteria like numbers of books sold, awards, numbers of positive reviews by prestigious reviewers, or whether their book has been published by a traditional publisher. If these benchmarks are the author's goals, then achieving or not achieving them is a measure of that author's success. But for authors who have other goals, and who are satisfied with their progress, it is presumptuous to tell them that they are not successful based on the number of books they've sold, and/or the profit they've made on their books.
My view is that it's up to me as an author to decide whether or not I'm successful. Outside evaluators may judge me by their own criteria such as how many books I've sold. But I don't have to accept their judgment.
What are some of the best tools available today for writers, especially those just starting out?
I really recommend
Writing the Breakout Novel Workbook
, by Donald Maass. It's packed with easy-to-use advice and examples to help writers make their fiction stronger. Also, WritersDigest.com has an excellent library of free articles covering a variety of genres and aspects of writing.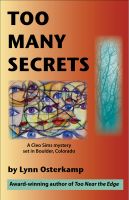 Genre - Mystery
Rating – PG
Connect
with Lynn Osterkamp on
Twitter